Wellness Chiropractic Center was established in 2000 aiming to serve families from Madison to Milwaukee with excellent care, a highly qualified staff, advanced technology, and proven techniques.
---
Dr. Brad Wehking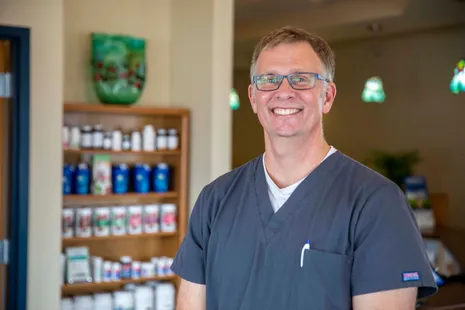 Dr. Brad Wehking hails from Colorado with an appreciation of the outdoors. His own experience with chronic knee pain from a high school basketball injury provoked him to seek chiropractic care and ultimately led him to pursue a career in chiropractic. He graduated from Northwestern College of Chiropractic with a Doctorate in Chiropractic in 1993. He practiced for 9 years in Madison with an emphasis on sports injuries and joint pain. He has experience working with professional and collegiate athletes. Dr. Wehking went on to complete a four year program in Chiropractic Orthopedics in 2003. He earned a certificate in Nutritional Counseling in 2008.
Professionally, he belongs to the Wisconsin Chiropractic Association. Locally, he is active in the Watertown Rotary and Get Healthy Watertown group. He completed the Leadership Watertown program in 2007. He served as a board member of the Watertown YMCA and the Watertown Chamber. He attributes his success to his genuine concern for his patients, his modern treatment methods, and his commitment to make chiropractic treatment affordable.
---